Saint Martin Dancers / Sint Maarten Dancers
If you are looking for a show in Sint Maarten, Saint Martin, Saint Barths or Anguilla with some of the best dancers / performer. You are in the right place. VooDoo Entertainment NV has been doing a variety of shows on these islands since 2007.
The company provides a variety of entertainment for promotions, weddings, casino's, restaurants, night clubs, dance and corporate events.
- Update November 2016:
We have just started our own facebook fanpage:
https://www.facebook.com/SXMDancers/
Check us out and don't forget to like and share!
Our company is creative, innovative and highly versatile. From Go-Go dancing to professional salsa, whether you need belly dancers, fire dancers, models, drag queens or acrobats, we can take any theme and produce a spectacular dance show that will bring any event to life.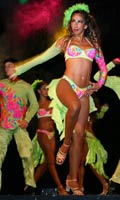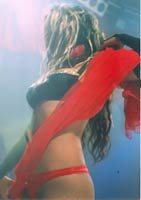 Paula Doño
General Manager / Artistic Director / Choreographer
Originally from Buenos Aires Argentina, Paula started training and studying Ballet from the age of 8. After 12 years of Ballet and becoming a qualified ballet teacher, Paula went on to study different dance styles with some of the best teachers in the world including: Jossie Neglia, Eddie Torres, Miguel Rodriguez, Stacey Lòpez, Angel Ortiz, Jason Molina, Vanessa Millan, Jhesus Aponte, Johny Vázquez, Luis Vázquez, Maria Torrez, Papito Jala Jala and Frankie Martinez.
Through her years in Argentina she gained allot of experience doing shows and representing numerous brands at special events
In 2000 and 2001 she was the main organizer of the Bacardi World Salsa Congress in Mar del Plata, Argentina.
Her dance group eventually represented Mar del Plata at the World Salsa congress in Puerto Rico in 2001.
In the beginning of 2002 she traveled to Ibiza Spain and spent 2 years doing shows and events. Eventually she got an opportunity to give lessons and shows in Japan in the beginning of 2004.
Paula spent four months in Japan, doing all kinds events including representing Jal Airlines at an event, before she accepted a job as a showgirl in Sint Maarten at the Casino Royale theater at the Sonesta Maho Resort.
Two years later, in 2006, she started her own group that would be known as the VooDoo Dancers. Using her international experience she was able to make an impact at the various events on the Island. In January 2009 the company 'VooDoo Entertainment NV' was born.
For more information about Paula and VooDoo Entertainment you can check out the websites;